EasyPark Mobile Wins Award
If you missed this, we are proud to announce the Bermuda 2013 Tech Award for "The Most Innovative New Mobile App went to EasyPark Mobile's parking service, which offers customers three ways to pay for parking using their mobile phones – text, call and smart phone application. Apple and Android smart parking application users, in addition to parking, can set parking reminders, add money to accounts, manage long-term airport parking remotely, view parking and billing history, and even locate one's car all from a smart phone." 1
Please visit our website www.easypark.bm to learn more about EasyPark Mobile features and benefits.
1(http://www.bermudasun.org/Content/BUSINESS/Business/Article/MediaMine-wins-TechAward-Innovation-of-the-Year/72/205/72521_ )
November and December 2013 EasyPark Mobile Winners
Congratulations to the following November and December 2013 winners of our EasyPark Mobile bi-weekly draw for $100 of FREE mobile parking:
November 15th, 2013 – Sylvia Martin Oliveira


Sylvia says, "I've been a huge fan of EasyPark Mobile since its inception. No need for coins or waiting in line, and you only pay for the time you use. Switching from the yellow meter to the Phone app has saved me even more time – I can top up on the go and it only takes a few seconds".
November 30th, 2013 – Glenn Jones,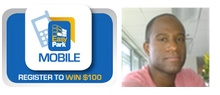 Glenn says EP Mobile, "…simplifies my life. [Is] super fast, super convenient and very user friendly".
December 15th, 2013 – Yvonne DeCosta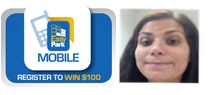 Yvonne says "EasyPark Mobile is convenient, fast and the best parking solution for an on the go user. I've not had a ticket or been clamped since signing up!".
Make sure you register and use EasyPark Mobile to be eligible for the remainder of our bi-weekly draws for $100 of FREE mobile parking.
Please see our website for more information: https://www.easypark.bm/index.php/customer-support/easypark-mobile/how-to-use-easypark-mobile
Discontinuance of EasyPark Meters for LFW Internatioanl Airport Long-term Parking
Effective February 1st, 2014, EasyPark Meters will no longer be available for use for zone 03 02, long-term parking at the L.F. Wade International Airport. As reported several months back, this move was inevitable as the EasyPark Meter is not best suited for long-term parking, due to the potential risk of battery failure.
However, we are pleased to announce that EasyPark customers can now migrate to EasyPark Mobile for parking in zone 03 02, long-term parking at the L.F. Wade International Airport. This option provides increased flexibility and user features, including being able to remotely add more parking time while traveling.
For more information on EasyPark Mobile, please see our website www.easypark.bm or call us on 441-542-7000.
Fee Charge
We are ever mindful of the cost of our services to our customers and have not increased any of our fees since the inception of EasyPark in 2009. However, in the face of rising costs, effective January 2014, EasyPark Meter users will be charged a $0.50 per month fee (or $6.00 annual fee). This fee is solely to offset rising monthly maintenance and technology costs.